Race cars and motorsports have been staples of the American sports culture for decades. There's nothing quite like the thrill of watching the race cars whiz across the track and feeling the entire stadium rumble with the roar of the crowds. If you're in search of an epic NASCAR getaway or something fun and unique to add to your vacation itinerary, a visit to the Charlotte Motor Speedway is an absolute must! Plus, the speedway hosts several exciting events throughout the year that are sure to delight any dedicated NASCAR fan!
Here are just some of the most highly-anticipated Charlotte Motor Speedway events, and don't forget to request your free copy of our Davidson, NC Travel Guide to discover even more local events and attractions.
Our Favorite Charlotte Motor Speedway Events
For over 50 years, the Charlotte Motor Speedway has attracted NASCAR fans from all over the nation to celebrate a favorite American pastime. Many of our local visitors love to visit the speedway on race days or to enjoy Charlotte Motor Speedway tours.
If you're interested in upcoming events, here are the ones that you'll want to mark into your calendars.
1. NGK Spark Plugs NHRA Four-Wide Nationals (April 26th-29th, 2019)
Known as The Bellagio of Drag Strips, the Charlotte Motor Speedway is the perfect venue to watch the NGK Spark Plugs NHRA Four-Wide Nationals. It is also your opportunity to see the stars of the Mello Yello Drag Racing Series in action. Each ticket also includes a pit pass to see your favorite cars and racers up-close.
2. Monster Energy NASCAR All-Star Race (May 18th, 2019)
All of your favorite stars from the Monster Energy NASCAR Cup Series will gather together and battle under the lights at America's Home for Racing!
Enjoy a pre-race concert and a variety of other must-see highlights before witnessing the last-minute qualifier that will decide the field for the largest All-Star event in sports.
3. Coca-Cola 600 (May 26th, 2019)
The Coca-Cola 600 is one of the speedway's most popular events, and it's easy to understand why. Each Memorial Day weekend, the speedway comes alive with fan-friendly entertainment including a live concert and an exhilarating race that tests the limits of man and machine.
4. Bojangles' Summer Shootout (June 10th-July 30th, 2019)
For some great family-friendly summer entertainment, head over to the Bojangles' Summer Shootout! This is the world's ultimate grassroots racing experience and features short-track action among Legend Cars and Bandoleros.
You and your family will be treated to exciting events such as racing school buses and mascots battling it out in go-karts.
5. Circle-K Back-to-School Monster Truck Bash
Send the kids back to school with awesome stories about the Monster Truck Bash to share with all of their friends!
In addition to monster truck rides, bounce houses, inflatables, and a pit party, you and your family can take a keepsake-worthy photo beside the massive five-ton machines.
6. Drive for the Cure 200
Drive for the Cure 200 is a wonderful way to join the fight against breast cancer! The event is presented by Blue Cross and Blue Shield of North Carolina and features a race against the NASCAR Xfinity Series contenders.
Your ticket will also include access to two-afternoon Monster Energy NASCAR Cup Series practice sessions.
7. Pennzoil Autofair (October 17th-October 19th, 2019)
The Pennzoil Autofair is the world's largest automobile extravaganza! Thousands of hot rods, muscle cars, exotic sports cars, and classic automobiles will all be brought together in one place for your viewing enjoyment.
Family-friendly activities will also be available such as a kid play zone and fun fair food.
8. World of Outlaws World Finals (November 7th-9th, 2019)
Did you know that the Charlotte Motor Speedway has a dirt track? The World of Outlaws World Finals is the most prestigious dirt racing event in the country and excites its attendees with plenty of heart-pounding, clay-slinging action.
The biggest series in the sport are brought together for this weekend event, so you won't want to miss a single moment!
Need a Place to Stay? You're Invited to Lodge With Us at the Davidson Village Inn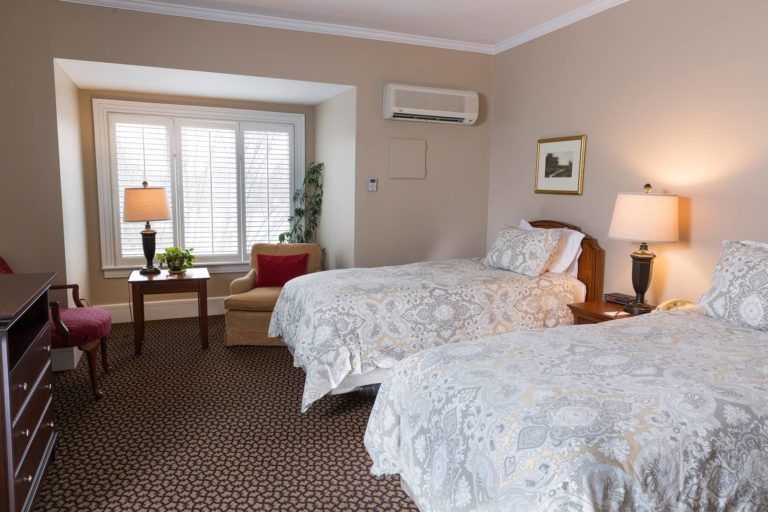 Located near the Charlotte Motor Speedway and Lake Norman, the Davidson Village Inn is an intimate and luxurious boutique hotel in Downtown Davison.
After a full day of Lake Norman and Charlotte, NC adventures, you'll be warmly welcomed back to our inn with that famous Southern hospitality before returning to your comfortable guest room.  
For memorable family vacations, our Family Suites are perfectly equipped to accommodate everyone in your party. You'll enjoy two queen-sized beds, a kitchenette, more than 100 cable channels, Greenwich Bay Bath amenities, and more.
Interested in adding even more fun experiences to your stay? Be sure to check out our irresistible vacation specials and packages and find a special deal just for you!
Check our availability right now to book your next Davidson, NC getaway.  We look forward to seeing you soon!