When it comes to activities on Lake Norman, the options are endless. Whether you prefer relaxing on land or going for a fun adventure on the water, we've got plenty of suggestions to keep you busy. Lake Norman is not your typical body of water. It is also a cultural centerpiece surrounded by attractions. You can explore art galleries, museums, music venues, restaurants, nightlife, and much more. Start planning your trip to the Davidson, NC, area today to take advantage of these great Lake Norman activities.
Before you arrive in Davidson, it's important to create an itinerary of things to do and places to see. Download your free Vacation Guide to the local area now! The guide is packed with information on upcoming festivals, nearby restaurants, shops, and more Lake Norman activities. You will be able to navigate this area like a local expert!
Lake Norman Activities You Need to Experience
Paddle Across the Serene Waters
With several marinas along the shores of Lake Norman, boating is a classic lake activity. There's something about propelling yourself along the sparkling water that is both peaceful and rewarding. Enjoy sailing, rowing, kayaking, or canoeing. Paddleboarding is another popular choice. Aloha Paddle Sports can help you get set up for a great time on the water with top-quality Lake Norman boat rentals and lessons.
To add a little more excitement to your Lake Norman adventures, try jet skiing! Rent a jet ski at Carolina Boat Rentals and hit the water for a thrilling experience. They offer WaveRunner rentals as well as pontoon boats, depending on your preference. You can even rent a motorboat as long as you have your boating license.
Spend a Relaxing Afternoon Fishing
Early summer brings peak Lake Norman, NC, fishing with warmer temperatures. Find the perfect spot along the lake and settle in for a relaxing day of fishing. Anglers from both near and far travel to Lake Norman for the chance at catching a record-winning catfish, crappie, striped bass, largemouth bass, and yellow and white perch. Catch and release methods are encouraged, so be sure to have your fun and then throw 'em back to help conservation efforts.
Take a Unique Cruise
Step aboard the Lady of the Lake for an evening on Lake Norman. This luxurious, 93-foot yacht has two floors, full bars, and a balcony offering incredible views. Take a moment to take in the tranquil atmosphere, then sit down for a three-course gourmet meal. Other cruises offered from Queens Landing include a sightseeing tour, party cruise, and the Catawba Queen dinner cruise.
For an eco-friendly, pedal-powered alternative, book a trip with Charlotte Cycleboats! This is a one-of-a-kind group activity that you will be talking about for years to come. Each boat can fit up to 15 people is equipped with a full bar and pedals to keep the good times rolling. It's a fun way to experience Lake Norman nightlife!
Grab a Table at One of the Best Local Restaurants
The Kindred Restaurant in Davidson has received several awards and significant acclaim for its fresh ingredients and contemporary cuisine. Recently, the owners of Kindred have expanded with a brand new restaurant called Hello, Sailor at Lake Norman. Their menu varies seasonally but typically features fresh seafood like oysters, shrimp plates, lobster rolls, and King crab. Be sure to set aside some time to spend a sunny afternoon eating delicious food by the water!
Return to Davidson Village Inn for Some Rest and Relaxation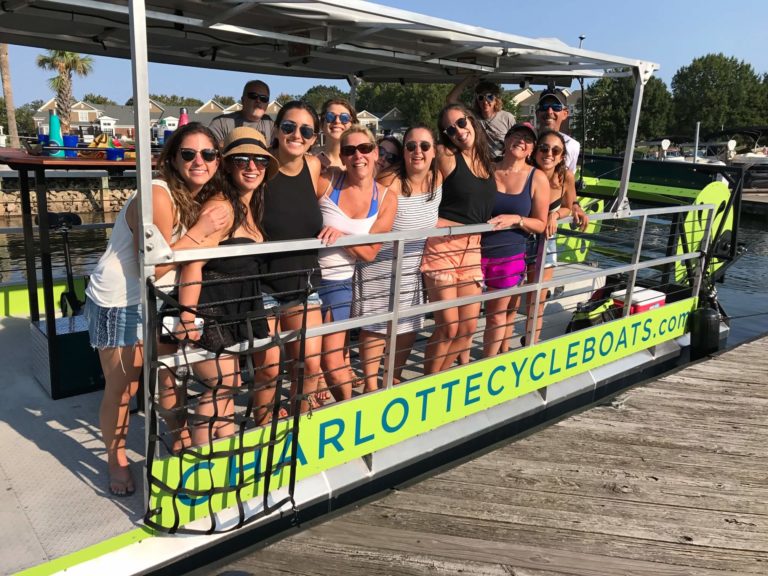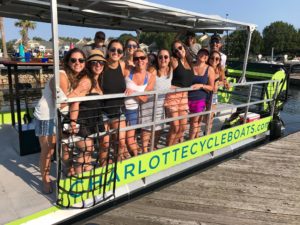 After your exciting day participating in all these Lake Norman activities, come back and relax at Davidson Village Inn. We offer 18 beautiful guest rooms, each featuring a combination of European charm and modern luxuries. Our inn is located within walking distance of excellent shopping and dining in the downtown area. Plus, each morning begins with a complimentary gourmet breakfast buffet. Check our availability and book your stay now. We look forward to hosting you on your Davidson getaway soon!
We are currently offering a Kayaking, Paddle Boarding, and Cycle Boating Special to help you get out on the water this season! Take advantage of this exclusive discount today!