Excitement is never far from Davidson's campus. Between the Division I athletics, incredible art, and high-profile visitors that the campus hosts every year, there is always something going on. If you're interested in learning more about which Davidson College Events that are worth attending, you've come to the right spot. All of the best things to do in and around campus are all right here waiting for you! For additional information on all of the best things to do in the area, don't forget to request access to our complimentary Vacation Guide! In it, you'll find all of Davidson's top restaurants, attractions, and seasonal events!
The Best Davidson College Events to Attend This Year
Sporting Events
Davidson College competes at the highest level of intercollegiate athletics, making them the best choice for sports fans outside of Charlotte. Davidson Basketball is one of the most well-known programs and regularly attracts large crowds. Additionally, every season the team takes on nationally ranked teams like Chapel Hill, Clemson, and Wake Forest. They even won the conference tournament in 2018! Before your next visit, check their schedule so you can plan to make it out to a game!
Davidson College also has talented soccer, tennis, and baseball teams that compete in the first division. No matter what your favorite sport to watch is, there's always something sports related going on at Davidson College!
Music and Arts
From fine art to student theatre, Davidson hosts incredible installations and performances all year long. For example, the Van Every Smith Gallery in the Belk Visual Art Center has hosted some of the country's best artists and hosts professor and student exhibitions weekly.
Additionally, the Duke Family Performance Hall features live theatrical performances from the Davidson Community Players and hosts speakers from around the country. In the past, speakers have included the likes of Steph Curry and George Saunders. Check the upcoming schedule before your trip!
Events Around Town
Outside of the school-sanctioned events, there are still plenty of opportunities for excitement around campus. For instance, April Is for Arts is a community event that features local and regional artists as well as a months worth of celebration. Artists demos, food, live music, and more are all available!
Another popular event is Christmas in Davidson. Every December, the whole town comes together to celebrate the season. Main Street is full of fantastic food, local vendors, and exciting Christmas festivities that you won't want to miss. No matter what time of year you're visiting Davidson, you'll never have a problem finding excellent ways to fill your time!
Davidson also has its own event schedule that lists all upcoming shows, performances, talks, and exhibitions that are happening around campus!
Where to Stay in Davidson, NC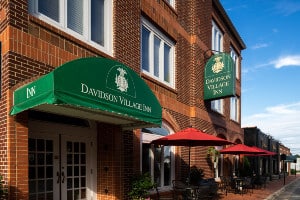 After you've explored all that Davidson College has to offer, return to the Davidson Village Inn for a night of pure relaxation. Our convenient Main-Street location and our luxurious guestrooms are all you need to complete the perfect getaway. Take a look at our Executive Suite, for example. The room features a four-poster queen bed, a comfortable workspace, free WiFi, and all of our finest amenities. Stay in style on your next visit to Davidson!