The Duke Family Performance Hall is an integral piece of Davidson College campus life and is steadily growing as a cultural hub for the greater-Charlotte area. Throughout the year, there are plenty of fantastic events, seminars, and performances hosted in the Knobloch Campus Center. Almost all of which are open to the public! Continue reading to learn more about this incredible venue! Before you plan your trip, don't forget to request access to our complimentary Travel Guide. Full of the area's best restaurants, attractions, and seasonal events, our expertly crafted guide is the perfect resource for building your next getaway to Davidson, NC.
Your Guide to the Duke Family Performance Hall
About the Duke Family Performance Hall
The Duke Family Performance Hall is a multi-functional venue that serves as a backdrop for campus events. It also plays host to a large number of incredible performances throughout the year. The construction of the performance hall was made possible by Duke Endowment. The endowment is a private foundation that funds various programs of higher education, health care, and children's welfare in North and South Carolina. Any given week, you can find everything from educational and influential speakers to Davidson Community Players theater performances!
Upcoming Performances
There's always a reason to be excited on Davidson's campus considering the number of fantastic events that the Duke Family Performance Hall hosts. For example, in the past artists and notable figures such as writer George Saunders and NBA MVP Steph Curry have spoken in front of crowds of students, professors, and community members. The hall also features professional and student-led musical and theatrical performances. Check the seating chart and the full schedule of upcoming events on the website! Whether you're staying in Davidson for the week or just passing through, it's always worth checking the schedule. You never know what you might find!
How to Get Here
The Duke Family Performance Hall is located within Davidson College's Student Union at 207 Faculty Drive. There is limited parking behind the Knobloch Campus Center and event attendees should park in the Baker Sports Complex parking lot. From here, it is just a short walk past the football field to the union. The ticket office is on the campus center's third floor and entrances to the auditorium are located on every level.
Where to Stay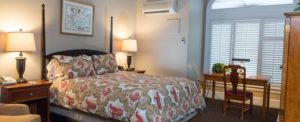 Put yourself within walking distance of all of Davidson's best restaurants and attractions when you stay with us at the Davidson Village Inn. Our boutique hotel is the perfect blend of small-town luxury and modern functionality.
For example, our Queen Rooms offer a four-poster queen-size bed, a flat screen TV, and a spacious work area with a comfortable desk and reading chair. Discover the beauty and convenience of our Main Street hotel on your next trip to Davidson! If you're planning a mid-week stay, don't forget to take advantage of our Weekday Special and instantly receive 5% off your room.