Out of precaution and to safeguard our guests and staff health, we are sharing additional practices implemented at our Inn to mitigate and pandemic threats in our facility and the greater Davidson/Lake Norman community.
We pride ourselves in our cleanliness standards and to reassure you that this is not a new commitment, we are delighted to share with you that we have an Environmental Health grading of 100% and 98% in Hospitality and Food Sanitation respectively. AAA has awarded us the Inspector's Best of Housekeeping in 2020 and we have a solid 5 Star Rating on Cleanliness on TripAdvisor.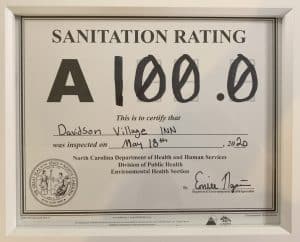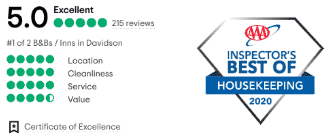 Additional Procedures implemented by our team are listed below.
Please note that standard Environmental Health Practices are not included in this list (it would be endless). 
Air purification is the first line of defense (given that germs can be transmitted through the air) which is why we have placed Smart True HEPA Air Purifiers, 5-in-1 Large Room Air Cleaners in every floor.
Disinfectants are now being used when cleaning all room surfaces, including desks, night tables, door knobs, vanities, remote controls, light switches, etc.
All public areas including restrooms, door knobs, tables, elevator buttons, handrails, etc. are disinfected throughout the day.
Hand sanitizer gel is made available to guests on all floors.
Additional needs for toiletries or towels can be arranged with the Front Desk staff between 7am and 10pm.
For more information and to stay updated on what the State of North Carolina is doing, please click this link. It is imperative that we all play an active role in this process, so please be sure to follow some best Individual and Family practices. Click here for Davidson College updates.
We appreciate you choosing the Davidson Village Inn and we are humbled to count with your trust and support as we all join together in preventing the further spread of any pandemic or virus threats.