A unique opportunity awaits this year at the with the Davidson Community Players. Help keep small-town theatre alive and embrace the distinct culture and charm of Davidson, NC, on your next visit by catching one of their live productions! To learn more about the theater and how to see one of their upcoming performances, continue reading below! Before you start planning your trip, don't forget to take advantage of our complimentary Vacation Guide. With our expertly crafted guide, all of Davidson's best restaurants, attractions, and local events are more accessible than ever before!
Everything You Need to Know About the Davidson Community Players
About the Davidson Community Players
The Davidson Community Players was established in 1965 with their first production of an original play, Time of Harvest. During that time, the Davidson Community Players also performed many notable plays like Our Town by Thorton Wilder and Who's Afraid of Virginia Woolf, by Edward Albee.  
In the early '80s, owner Connie Welsh moved to Charlotte, leaving the company in worthy hands. Over the year's the group continued to grow and has even become an official non-profit. This has afforded them the ability to extend their running times and even direct their first children's play in collaboration with the Davidson College Theater Department. The company has also been able to start hiring professional set designers, stage directors, and technical coordinators to elevate their shows even further!
Today, the original spirit that Connie envisioned is more alive than ever before. The Davidson Community Players still serves to enrich the surrounding community and bring culture and entertainment into the lives of Davidsonians! Catch a show today! What to See This Season
How to Get Tickets
Every season, the Davidson Community players have a fresh new calendar of shows! With such a diverse listing, finding the perfect performance to attend is never an issue. If you're planning a trip to the area or you're already here and looking for some entertainment, check out their Main Stage Production schedule and The Connie Company Production schedule to find a show that is right for you! Reserved Tickets are $29 for adults, $27 for seniors, and $17 for students. Many shows sell out prior to opening night, so plan ahead! Tickets can be purchased online or by calling the box office at 704-892-7953.
Why You Should Go
Seeing a performance by the Davidson Community Players is a must on your visit to the Davidson area.  The Davidson Village Inn is located in downtown Davidson, within walking distance of their main theater.  Breakfast each morning features local coffee and local baked goods along with fresh fruit, cereal, and yogurt.  For reservation information or to inquire about our current specials, please give us a call at 704-892-8044. We look forward to hosting you on your North Carolina getaway.
Where to Stay in Davidson, NC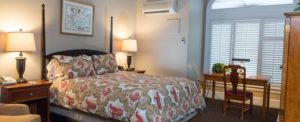 For luxurious accommodations in a convenient location, the Davidson Village Inn is your best option in Davidson, NC. Our comfortable inn is seconds away from Main Street, Davidson College, and all of Davidson's best activities, including the Davidson Community Players' main theater.
For an exceedingly relaxing stay, our Queen Rooms offer the perfect combination of elegance and modernity. Each room is equipped with a queen-size bed, a work nook, and all of our finest amenities. Complimentary breakfast is served each morning and features local coffee, baked goods, fresh fruit, and much more!