Take some time to relax on your next Lake Norman getaway. The beautiful area offers a lot more than just incredible watersports and unlimited adventure. You can also find a few of the best spas in the Carolinas. Follow our guide to the best Lake Norman Spas and take your vacation to the next level. While you're here, don't miss out on any of Davidson's best restaurants, attractions, and events when you request access to our complimentary Travel Guide. With our expertly crafted guide, the key to the getaway of your dreams is always in your back pocket!
The 5 Best Lake Norman Spas!
Stonehaven Massage and Spa
This Mooresville day spa has it all! Stonehaven offers a variety of services that will "relax your body, rejuvenate your skin, and accentuate your beauty." Their professional staff and soothing atmosphere are second to none and present guests with a one-of-a-kind experience.  Stop by for one of their targeted, full-body massages, or a revitalizing facial.
Lake Norman Salt Spa
Lake Norman Salt Spa is unlike any spa in the area. Their halotherapy treatment blends an ancient healing technique with modern technology to deliver a wellness experience that you just can't find anywhere else. The spa even uses pharmaceutical-grade Himalayan sea salt, which is often regarded as the purest salt in the world. Embrace its healing power for yourself on your next visit!
Dancing Leaf Spa
When it comes to the best of Lake Norman spas, Dancing Leaf is always a part of the discussion. Walk through the door of this day spa, and leave your stress behind. Their spa embodies the balance and beauty of nature and reflects these qualities in each and every one of their treatments. For example, their age-defying chemical peel is tailored to your specific skin-care needs, restoring your skin to its full potential!
Expressions Day Spa
Expressions Day Spa is the perfect host of your next spa retreat. Their long list of treatments includes facials, massages, waxing, manicures, and pedicures. Let their expertly trained staff help you release all of the tension and stress from your body. The spa is in Denver, NC, on the western side of lake norman, but it's definitely worth the extra drive!
Ahlara International
One of Lake Norman's premier day spas, Ahlara International, is a Lake Norman hotspot. More than just a spa, Ahlara is a fully equipped wellness center that offers a wide variety of unique services. From their elegant decor to their expertly designed yoga courses, everything about this spa is built for relaxation. If you only have one spa day planned, Ahlara's expansive list of quality services makes it the perfect place to start!
A Relaxing Place to Stay Near Lake Norman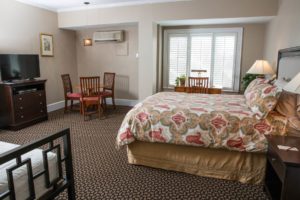 Continue the blissful spirit of your spa getaway with us at the Davidson Village Inn. The unparalleled comfort and convenience of our inn are exactly what you need to complete the perfect Lake Norman escape. We are located right next to Main Street, giving you instant access to all of Davidson's top attractions, restaurants, and things to do.
Our Executive Suites offer the quaint atmosphere of a traditional bed and breakfast while delivering all of the world-class amenities one would expect to find at a modern hotel. Don't forget to take advantage of our Davidson Day Spa Special, and receive 10% off of your next visit to Ahlara International! Elevate your next visit to Lake Norman by embracing the beauty of our boutique hotel!