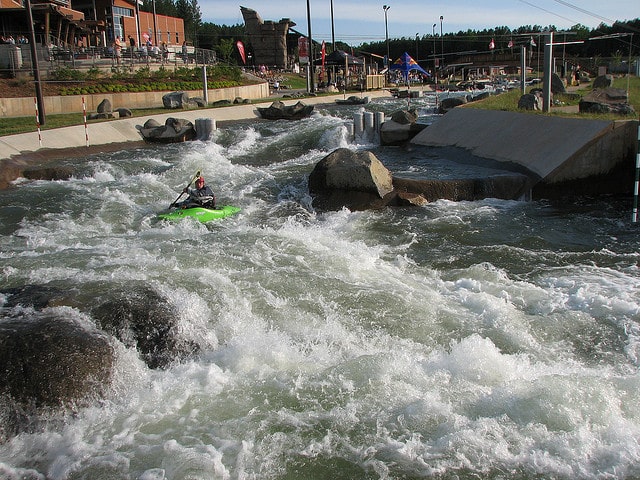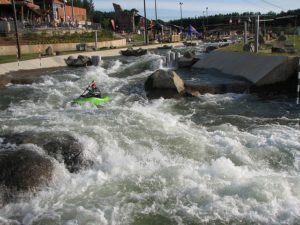 Here at the Davidson Village Inn, we find that our guests come to visit us for a number of different reasons. Some guests want to escape to the slower pace of Davidson and Lake Norman. Other visitors are looking for excitement and adventure. The latter can absolutely be found within a short drive from our inn.
Exhilarating activities are available en masse less than 25 miles from Davidson at the U.S. National Whitewater Center (USNWC). The USNWC is a locally owned and operated nonprofit organization dedicated to the promotion of the active, outdoor lifestyle. It is a hot spot for outdoor adventure for all skill levels and ages making it perfect for family fun. The center is situated over 500 acres of woodlands and offers opportunities for playing, relaxing and learning outside. For those who prefer to play, here are four of our favorite, family-friendly activities at the National Whitewater Center.
Whitewater Rafting
The USNWC features the world's largest man-made whitewater river, so a trip to the National Whitewater Center is not truly complete without a trip down the rapids. Family Rafting will take younger guests and first timers down Class II and III rapids while Adventure Rafting is designed for those wishing to take on more challenging Class II, III and IV rapids. Whichever rafting challenge you choose, you are sure to enjoy the excitement of world-class whitewater.
Rock Climbing
Climbing instruction for beginner to advanced climbers is available at the National Whitewater Center. Enhance your skills in climbing, belaying, rappelling and bouldering. The USNWC is home to one of the largest outdoor climbing walls in the south. Roped climbs reach 30 feet in the air and the spire rises 46 feet in the air. Both are sculpted to feel like real granite and give climbers views of the rushing whitewater river below.
Zip Lining
If you want to minimize your physical exertion but still maximize your exhilaration, zip lining at National Whitewater Center is the way to go. The USNWC offers three zip lining experiences. Canyon Zip is an out-and-back zip line experience perfect for beginner zip liners. Starting at 32-feet high and traveling 100-feet, the second zip lining experience, Climb 2 Zip, offers some of the best views of the U.S. National Whitewater Center. Mega Zip, the third zip lining experience, is a one-of-a-kind 1,123 foot zip-line that launches from a 46-foot tower and crosses over sections of Class III and IV whitewater.
Hawk Jumping
For an even bigger adrenaline rush, go to the Hawk Jump at the National Whitewater Center where you will climb a pole ladder 41 feet into the air only to leap off the platform, letting gravity take over and praying the True-Blue Auto Belay technology will catch you before you hit the ground. Your prayers will be answered as the line comfortably lowers you back to the ground so you can climb up once more. The Hawk Jump is exhilarating for kids and adults alike.
—
After whitewater rafting, rock climbing, zip lining and hawk jumping, there's no doubt you'll be ready for some relaxation! Be sure you have a peaceful place to stay when you plan your trip to the U.S. National Whitewater Center. For a fun family vacation, book a family suite at the Davidson Village Inn to check into after your day at the USNWC. All of our rooms are appointed with private baths, Turkish bamboo towels and Comphy Company linens. After a solid night of rest and a hearty breakfast the next morning, you may just be ready to hit those rushing rapids again!
Photo courtesy of Jeremy Thompson.