The cool, blue water of Lake Norman is truly one of Davidson's top attractions. The lake features everything from biking trails to waterfront restaurants, but the best way to fully embrace the beauty of the area is by boat. If you're serious about making the most out of your next getaway, Lake Norman boating is something that should not be left out of the itinerary. Everything you need to know about getting out on the water is right here! Before you set sail, don't forget to request access to our exclusive Vacation Guide. Our expertly crafted guide is completely free and features all of the area's best restaurants, attractions, and seasonal events. Planning the perfect vacation has never been easier!
Your Guide to Lake Norman Boating
Where to Rent a Boat
There are plenty of Lake Norman boat rentals available when planning your day on Lake Norman. All Seasons Marina has a full-service boatyard, fuel dock, and a supply store with all of your boating necessities (ice cream and cold drinks included). Aquaventure has ski boats for rent, from a 23-foot SCX Crossover 220 to a Bentley 250 Party Cruise pontoon that can hold up to 16 passengers. You can rent these vessels for a day or half-day, depending on the length of your adventure on the water. Carolina Boat Rentals offers Waverunner and pontoon rentals along with 1-2 hour Lake Norman boat tours that explore small coves and even provide tubing possibilities. One of the many rentals near the lake will be able to provide the perfect personalized vessel for your needs while boating on Lake Norman!
Where to Launch Your Boat
If you're transporting your own vessel to the waterfront, here are some locations from which you can launch your boat. All Seasons Marina doubles as a boat rental space and a marina. Whether renting a boat from them or bringing your own, this a great place to start your day of boating on Lake Norman. Blythe Landing in Mecklenburg County Park is another great launching point. The landing operates with a fee of just $8 for non-county residents and features six boat launching sites. Floating piers, a Dockside Cafe, a beach, and sand volleyball courts are just a few of the amenities that are available here! Holiday Marina is a Lake Norman Marina with everything from a boat ramp to jet-ski slips. They also have gas docks, wet slips, dry storage, an on-site restaurant, and valet golf-cart service.
Sailing & Rowing
Ski boats and pontoons aren't the only vessels you will see boating on Lake Norman. Sailboats, kayaks, and paddleboards are also ideal for exploring the waters of Lake Norman. Lake Norman Community Sailing is a non-profit that makes sailing and rowing affordable and accessible for both kids and adults, offering programs and lessons as well as seasonal passes. My Aloha Paddle & Surf is another option. They have kayak and paddle board rentals, as well as individual and group lessons for the whole family. Daily, weekend, and weekly rental options are available for kayaks if you want to keep enjoying Lake Norman during the rest of your vacation!
After a Day of Boating on Lake Norman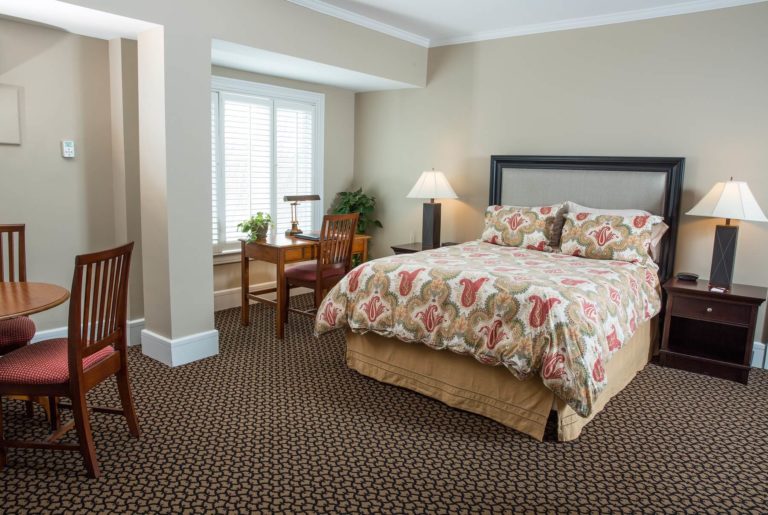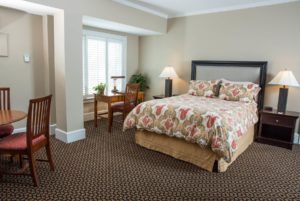 Located just minutes from Lake Norman, Davidson Village Inn provides the comfort and relaxation that you need after a long day in the sun. Our luxurious inn is minutes away from Lake Norman and right next to all of Davidson's top attractions! Enjoy dining at some of Davidson's award-winning restaurants or, if you've had enough adventure for the day, experience the quiet elegance of one of our premium guest suites.
Our Executive Suite, for instance, features a queen-size bed, a spacious work area, and soothing decor. Wake up feeling refreshed and join us for a complimentary breakfast each morning that you are here! The beauty of Davidson, NC, is waiting!