NASCAR and North Carolina are as inseparable as it gets. It's only fitting that the state is home to the sport's hall of fame. If you find yourself in the Queen City, whether you're a fan or not, the NASCAR Hall of Fame in Charlotte, NC, is well worth the visit. While you're here, don't miss out on any of the area's other incredible attractions, restaurants, and events. Our free Vacation Guide is full of all of the best things to do around Charlotte and is the perfect tool for sculpting your next getaway!
Your Guide to the NASCAR Hall of Fame in Charlotte, NC
About the NASCAR Hall of Fame
Located at 400 E. Martin Luther King, Jr. Blvd in Uptown Charlotte, the 150,000-square-foot NASCAR Hall of Fame in Charlotte, NC, is an interactive attraction that honors the history and heritage of NASCAR as a sport and a cultural movement.
You don't have to be a racing aficionado to enjoy the Hall of Fame. The high-tech venue was designed to educate and entertain race fans and non-fans alike. Opened May 11, 2010, it's a state-of-the-art facility that's home to artifacts, interactive exhibits, and a 278-person theater. The complex also features a Buffalo Wild Wings restaurant and the NASCAR Hall of Fame Gear Shop where you can stock up on all of your favorite exclusive NASCAR attire.
What to Do at the Hall of Fame
High Octane Theater
All trips to the NASCAR Hall of Fame in Charlotte NC start in the High Octane Theater. With 278 seats, a 64-foot-wide projection screen, and complete surround sound, immersion into NASCAR culture isn't an option. Sit back and enjoy the incredible cinematic experience as you learn about the history of the sport and get excited about the upcoming exhibits.
Glory Road
Glory Road is one of the can't-miss attractions at the NASCAR Hall of Fame in Charlotte NC. This exhibit has been a focal point since the NASCAR Hall of Fame opened in May 2010. Encircling the Great Hall, Glory Road features 18 historic cars that tell the NASCAR story in a personal way.
On January 11, 2014, the NASCAR Hall of Fame unveiled a complete makeover of the iconic exhibit. The second generation, dubbed Glory Road 2.0, features a refresh of all 18 cars. It reflects the six generations of NASCAR premier series race cars that have been driven and built by some of the sport's most celebrated drivers, owners, and mechanics.
Heritage Speedway
Some of NASCAR's most famous artifacts are on display at the Heritage Speedway. Helmets with the first radio, Bobby Allison's driving uniform, the Atlanta Motor Speedway Trophy, and more are all available to see up close! Don't miss out on these important pieces of NASCAR history on your next visit.
Racing Insiders Tour
The Racing Insiders Tour is an all-inclusive package for the true enthusiasts that are looking for a behind-the-scenes tour of the facility. Dive deep into the roots of this sport and drive your way around Charlotte, stopping at some of the best local racing attractions. This opportunity is offered just a few days a month, so plan accordingly!
Other Exhibits
Aside from the permanent exhibits listed above, the NASCAR Hall of Fame always has exciting new exhibits and events on the schedule. Before you plan your trip, check their calendar for upcoming displays and attractions! Induction ceremonies are a ton of fun and are a great way to see some of your favorite drivers up close as they receive one of the highest honors in the sport. Start planning your getaway right now!
Where to Get NASCAR Hall of Fame Tickets
Tickets can be purchased both at the Box Office or online through the Hall of Fame's website. Groupon occasionally has promotions running for up to 50 percent off admission, so be sure to check the deals before buying your tickets. The pricing for daily admission is as follows:
Members: FREE
Adult: $25
Senior (60+): $22 with ID
Military: $18 with ID
Children (3-7): $12
Youth (8-12): $18
Become a Member
If you live in the area and are a die-hard NASCAR fan, becoming a member as an individual or a family is a great way to save money. An entire year costs $125, which covers unlimited admission to the Hall of Fame, as many simulator rides as you please, a gift box upon signing up, invitations to member-only events, exclusive online content, discounts on parking and merchandise, two buddy passes, and a Hall of Fame Yearbook. This is an incredible deal for fans, and families can get all of the same perks for just $60 more.
Hours of Operation
Monday: 10 a.m.- 5 p.m.
Tuesday: Closed
Wednesday: 10 a.m.- 5 p.m.
Thursday: 10 a.m.- 5 p.m.
Friday: 10 a.m.- 5 p.m.
Saturday: 10 a.m.- 5 p.m.
Sunday: 10 a.m.- 5 p.m.
Where to Stay Near Charlotte, NC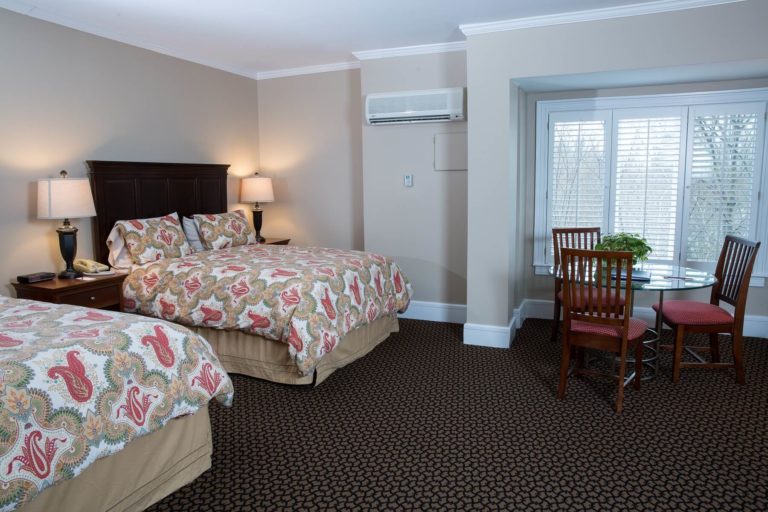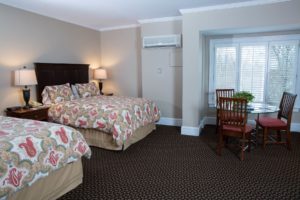 Take one step closer to the NASCAR capital of the world and stay with us at the Davidson Village Inn. 90% of all NASCAR teams are headquartered in the Charlotte area. Many drivers even live and work just down the road from us in Mooresville, NC. Experience the excitement of NASCAR fandom and the comfort of our luxury guest suites on your next visit!
For example, our Family Suites are perfect for groups of friends or families that are traveling together. The room features two queen-size beds, spacious living areas, and an HDTV flat-screen TV! The beauty of our area and the elegance of our inn will have you planning your next stay before you even check out!