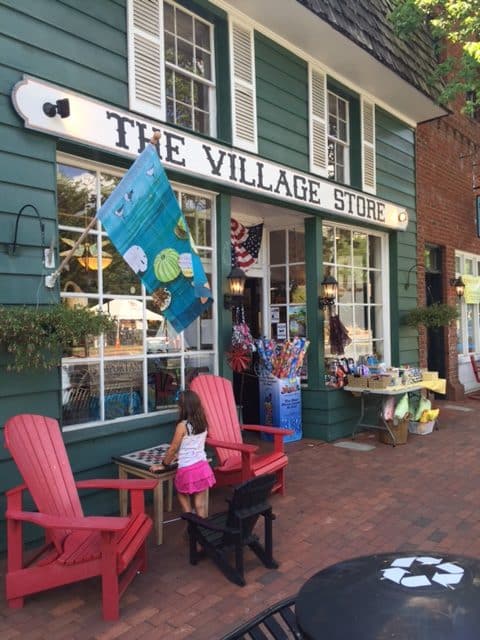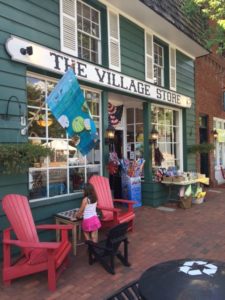 Take a stroll down Main Street in Davidson, North Carolina and you'll find many places to stop and shop.  One must-see store while out and about is The Davidson Village Store.  Since 1966, Davidson Village Store has been the place for locals and out of towners to buy gifts, jewelry, and home décor.  Whether you choose to browse or are in need of a special hostess gift, the Davidson Village Store is the place to see.
When you step inside The Village Store, you'll be surprised at all the store packs in such a small space.  They offer a variety of items from jewelry to collectibles and home décor.  The store has a selection of outdoor garden decorations, seasonal items, and unique gifts for parties, baby showers, or birthdays.  Be sure to ask about their shipping services and free gift wrapping.
In addition to all they have to offer, they have one of the largest Vera Bradley collections around.  Vera Bradley products include everything from iPhone cases to wallets, handbags, purses, and totes.  And the prints are super fun with bright colors.  Other brands you'll find when shopping at The Village Store include Klutz, Manhattan Toy, Tervis, Wilton Armetale, and Virginia Candle.
Kids will be entertained when they enter The Village Store.  They have lots to look at with a section just for them complete with puzzles, games, and toys.  And for the new bundles of joy on your shopping list, they have a great selection of baby gifts too.
If you love a good deal, sneak to the back and see their special clearance area.  You'll find a few shelves of special deals at a reduced price.  And for over 50 years, The Village Store has been holding the ever-popular After-Christmas Sale, usually held on December 26th.  Most of the Christmas décor is on sale for up to 50% off.  This tradition is worth stopping by if you are around after the holidays.
Each spring, Davidson Village Store holds its annual Spring Open House.  It's a great time to come out and enjoy refreshments, music, and of course shopping.  The event also includes a raffle and free swag bags for a limited time at the opening.  There's nothing better than a fun shopping event to kick off spring.
Davidson Village Inn is just a short walk away from Davidson Village Store.  You'll feel right at home in one of our 18 rooms with 5 different room types.  Each room features a private bathroom stocked with Turkish bamboo towels and Greenwich Bay bath products.  Each morning begins with a complimentary breakfast buffet.  The buffet offers locally made baked goods, fresh fruit, cereal, yogurt, cheeses, eggs, and coffee from Summit Coffee.  The fall season is a great time of year to visit the town of Davidson.  The buzz of Davidson College is right across the street from the Inn, the fall foliage is in full swing, and the weather is perfect for sitting outside at some of Davidson's best restaurants.  We'd love to host you on your Davidson getaway.  Give us a call at 704-892-8044 to book your perfect room.