Two locations, one amazing experience. Summit Coffee Co. has been a staple of the Davidson community since it served its first cup in 1998. Frequented by students and townies alike, Summit Coffee is Davidson's one-stop shop for fresh coffee, quick eats, craft beer, and that authentic coffee shop feel that you just won't find at the nearest Starbucks. After you've finished your coffee and your work, discover the rest of Davidson with our complimentary Travel Guide. With our guide, all of the area's best restaurants, exciting attractions, and outdoor activities are right in the palm of your hand. Start planning your visit today!
Access Your Free Travel Guide Now!
Summit Coffee Quick Facts
About
Since the opening of Summit Coffee's Main Street location in 1998, the coffee shop has seen three different owners, the birth of three new locations, and the addition of a wholesale roastery service. While the business has surely grown, the vision has remained the same: deliver craft goods and quality service in a community-driven environment. Davidson is a town that is built around its neighborhood feel and Summit Coffee has always embodied these ideals while providing people with excellent coffee, craft beer, live music and much more. Stop by and experience Davidson's unique charm for yourself!
Locations
Basecamp
As the original location of Summit Coffee, Main Street Summit supplies visitors with everything one could ask for in a modern coffee shop while preserving the old-school feel of Davidson's town center. The renovated, 19th-century building that the coffee shop calls home is right in the heart of Davidson and a short walk from anywhere in town. This is a quiet place to get some work done by day and an exciting place to socialize and enjoy the company of friends by night!
Hours:
| | |
| --- | --- |
| Monday | 6 a.m.- 10 p.m. |
| Tuesday | 6 a.m.- 10 p.m. |
| Wednesday | 6 a.m.- 10 p.m. |
| Thursday | 6 a.m.- 10 p.m. |
| Friday | 6 a.m.- 11 p.m. |
| Saturday | 7 a.m.- 11 p.m. |
| Sunday | 7 a.m.- 6 p.m. |
Outpost
The New Summit Outpost, coined "nummit" by students of Davidson College, is the on-campus option for coffee. The Outpost is less of a quiet workspace than the Main Street location, but still offers the same quality products and community atmosphere. Campus culture has embraced Summit Coffee with open arms since its opening in 2013. Trivia nights, live music, craft beer specials, and incredible food options are weekly occurrences!
Hours:
| | |
| --- | --- |
| Monday | 7:30 a.m.- 10 p.m. |
| Tuesday | 7:30 a.m.- 10 p.m. |
| Wednesday | 7:30 a.m.- 10 p.m. |
| Thursday | 7:30 a.m.- 12 p.m. |
| Friday | 7 a.m.- 2 a.m. |
| Saturday | 10 a.m.- 2 a.m. |
| Sunday | 10 a.m.- 5 p.m. |
Food and Drink Menu
Summit Coffee's menu is always evolving to meet the needs of visitors and varies depending on location.Whether you're posted up in the corner of Main Street's coffee shop or swinging by Summit's newer location on campus, locally roasted coffee sourced from small farms around the world is always available. Additionally, the kitchen at Summit Coffee has grown tremendously over the last few years and now serves baked goods, appetizers, and small plates at every location. Sure, the kitchen may not rival that of Kindred, but the combination of Summit's artful craftsmanship, quality service, and welcoming atmosphere is hard to beat.
Where to Stay in Davidson, NC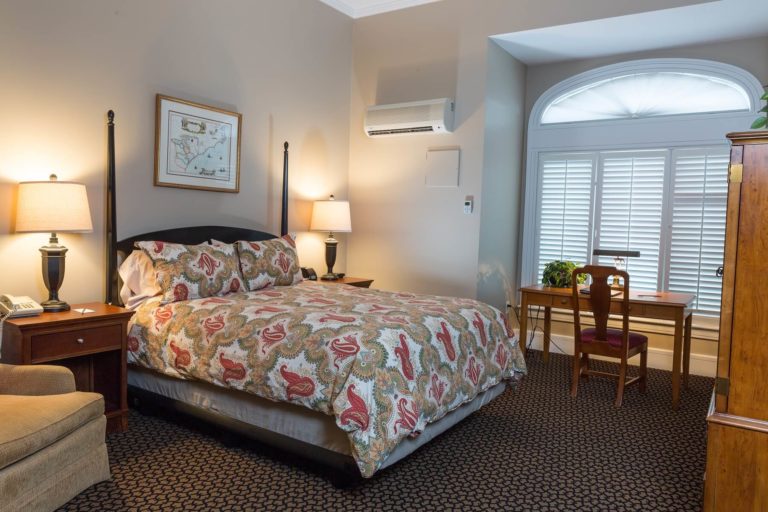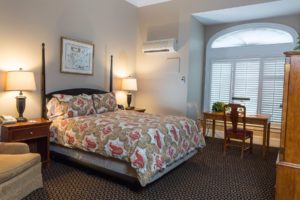 After you've explored everything Davidson, NC, has to offer, return to the Davidson Village Inn for a night of restful opulence. No other lodging option near Davidson can match the beautiful decor, first-rate amenities, and charming atmosphere of our boutique hotel.
For example, our Queen Room is a large guest room that features a four-poster queen bed, a private workspace, and free WiFi. If you're planning a trip to Davidson, the convenience of our location and the modern elegance of our accommodations are unmatched. It's never too early to start planning your trip!