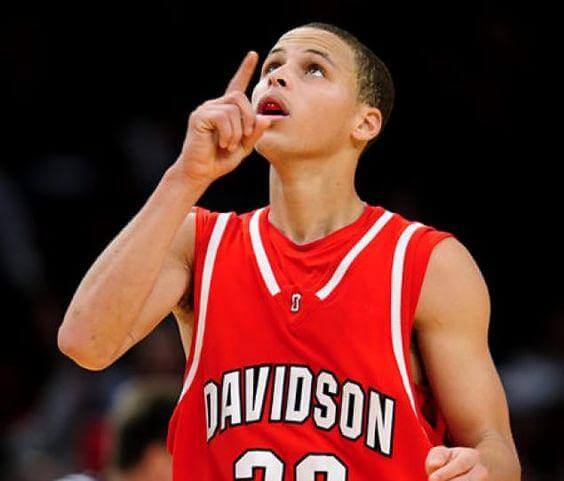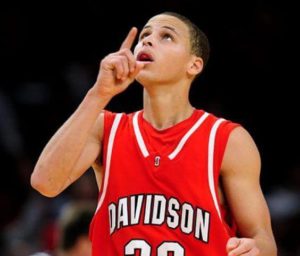 Long before Stephen Curry became the NBA's preeminent marksman, he played for the Davidson Wildcats Today, he is one of basketball's top players and has continued to support his college team.
Despite his current star status he received very little attention from prominent college programs, like Duke and Kansas. Even the Virginia Tech Hokies, alma mater of Curry's father, Dell, was not sold on Curry. Curry's high school coach, Shonn Brown, attributes that lack of attention to Curry not passing the eye test. He was too small at 6 feet, and also considered too thin.
But Bob McKillop, Head Basketball Coach at Davidson wanted Curry. The veteran coach recognized Curry's shooting touch, skill level, hand-eye coordination, hoops IQ, self-belief, and competitive fire. So, McKillop and Davidson offered the Akron-born high school student a full scholarship. Curry accepted, and became the face of Davidsonbasketball right from the get-go.
Curry was a starter from day one for the Wildcats, and his freshman season was impressive. He finished second to Kevin Durant as the nation's highest scoring freshman, averaging 21.5 points per game to Durant's 25.8. Curry was also named Southern Conference Freshman of the Year and Tournament MVP, and was selected to the Southern Conference All-Tournament Team, All-Freshman Team, and First Team All-Southern Conference.
Curry upped his scoring as a sophomore to 25.5 points per game, and he added 4.7 rebounds, and 2.8 assists. More importantly, he led Davidson to a 26-6 regular season, and another NCAA tournament bid. There, Curry scored 40, 30, and 33 points to help the Wildcats upset Gonzaga, Georgetown, and Wisconsin. Davidson, though, lost to eventual champions Kansas Jayhawks in the Elite Eight. As a junior, Curry averaged 28.6 points, 5.6 assists, and 2.5 steals per game, highlighted by a 43-point outburst against Appalachian State in the 2009 in the Southern Conference Tournament. Unfortunately, the Wildcats failed to make the NCAA tournament, depriving Curry the opportunity to replicate his outstanding performance the year prior.
In the NBA, Curry continues to make his alma mater proud and has even made financial contributions to Davidson so it could renovate its practice facility. He is the only Davidson alumnus in the NBA, and is one of the league's best. In 2015, he, along with Klay Thompson, Draymond Green, and Andre Iguodala, led the Golden State Warriors to their first NBA title since 1975. He then helped the Warriors recruit the aforementioned Durant, showing a willingness to take a backseat so that Durant could be the face of the Warriors. Durant signed a lucrative deal with the Warriors to become one of the highest paid athletes in the world, and helped the team win two more titles. Curry, true to his word, ceded top billing to Durant, allowing the Warriors star-studded lineup to co-exist and dominate the NBA.
Starting next season, though, Curry will need to revert to his leading man role. Durant is headed east to the Brooklyn Nets, while Klay Thompson will be out until at least February 2020 after ACL surgery. Gone, too, are Andre Iguodala and DeMarcus Cousins, with the former traded to the Memphis Grizzlies and the latter signing with the Los Angeles Lakers. Good thing for the Warriors then that Curry is accustomed to that leading role — one that he first assumed for Davidson a little over a decade ago.
Written exclusively for davidsoninn.com
by Natalie Diamond