Did you know that North Carolina is home to 14 Fortune 500 headquarters? One of these is the second-largest hardware chain in the United States and is located just minutes from Davidson Village Inn. The Lowe's Home Improvement corporate office is a beautiful 275-acre campus at 1000 Lowe's Blvd, Mooresville, NC, 28117. If you are traveling for business at Lowe's Headquarters, we would love to host you at our inn.
Before conducting business at Lowe's Headquarters, make sure you download our Travel Guide! This free resource has helpful tips on great places to eat, ways to explore the outdoors, upcoming festivals, and more. Work can make your life busy. Save precious time planning your trip by using our guide!
Planning Your Trip for Business at Lowe's Headquarters
Enjoy the Great Outdoors
We know it can be hard to find free time with a busy lifestyle. In the Davidson area, we make it easy with a number of fun outdoor activities available to guests. During your stay, we encourage you to take a break from work and get some fresh air. Lake Norman has 520 miles of shoreline and is located just a stone's throw away. It truly is a spectacular natural attraction where you can enjoy water sports, boating, fishing, or just a leisurely stroll with breathtaking views. For a more thrilling experience, you can go on a mountain bike adventure along beautiful local trails. Our partners at The Cycle Path offer bike rentals nearby and will get you all set to roll.
Dine at Local Restaurants
It's no secret that Davidson is home to some pretty fantastic local restaurants. For instance, Kindred is an absolute can't-miss and showcases the freshest ingredients on their award-winning menu. We even have a Davidson Dining Experience add-on package to help you enjoy some of the most sought-after dining experiences in the area. However, If you decide to eat closer to Lowe's Headquarters, Mooresville has plenty of eateries, too. Less than 10 minutes from the Lowe's campus, you'll find Blu Star Grill, Epic Chophouse, and Joe Fish Casual Seafood. There are also a few fast food options like Chick-Fil-A if you are short on time and need a quick bite.
Stay in Our Executive Suites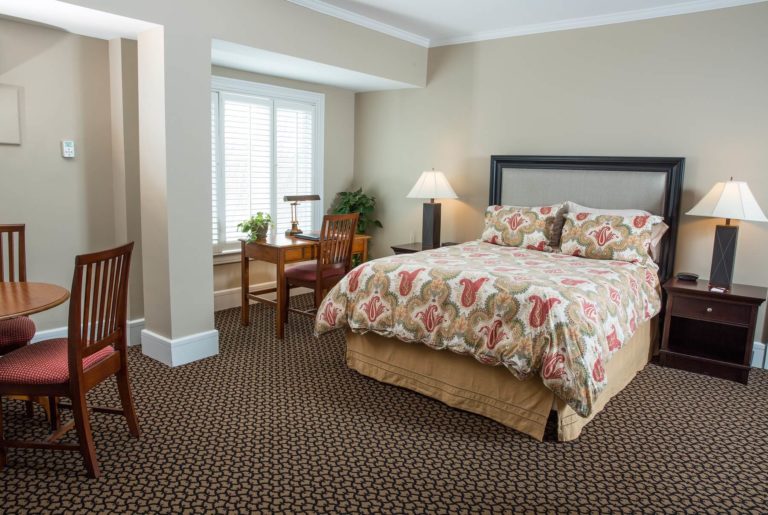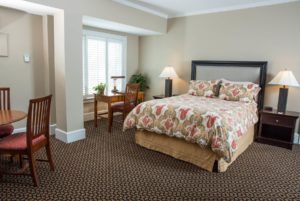 Our Executive Suites are the ideal spot to start your morning and return to after a long day. Each suite comes with a working desk and chair as well as free WiFi to make catching up on work a breeze. At the end of the day, get a restful night's sleep in the room's four-poster queen bed with Comphy Company linens. Our rooms are also equipped with a kitchenette, spacious sitting area, and private bathroom stocked with Turkish bamboo towels.
When visiting the Lowe's Corporate Headquarters, we would love for you to experience a stay with us at Davidson Village Inn. You can expect a quiet and peaceful environment where you can get the rest you need and enjoy the great things our town has to offer. Our Inn is conveniently located just 10 minutes away from the headquarters, making it an effortless commute. Don't wait; check our availability and book your stay now!
Be sure to ask about our many specials and packages which are great for customizing your getaway! Remember to inquire about our corporate rates when booking.