Whether you're a prospective student or not, a Tour of Davidson College should be on your Davidson, NC, to-do list. The tours are an incredible way to learn about one of the nation's best private institutions. They also offer a unique opportunity to explore the beauty of Davidson's campus with a knowledgeable guide. While you're here, don't forget to request access to our complimentary Vacation Guide. Full of all of Davidson's best restaurants, attractions, and events, our expertly crafted guide is exactly what you need to craft the perfect getaway!
Everything You Need to Know About Davidson College Tours
When are Tours Available?
If you're thinking about making Davidson College home for the next four years, it's probably wise to take a proper tour of the school before you decide for sure. Luckily, tours of Davidson College are offered throughout the academic year and can be scheduled on the school's website! Self-guided tour brochures and Davidson campus maps are also available in the Office of Admissions lobby.
What to Expect on Your Tour
Student-led tours typically last around 75 minutes. During your tour, you can expect to hear everything you want to know about the main parts of campus as well as the student's honest views on campus life and opportunities. Your energetic guide is also there to answer any questions you might have, so don't be afraid to ask! A few key places on campus that you will visit include E.H. Little Library, the academic buildings, the Alvarez College Union, and some of the first-year residence halls.
What Are Some Other Ways to Learn About Davidson College?
If you didn't sign up for a scheduled tour, don't worry! There are plenty of ways to learn more about this outstanding school! For example, you can attend information sessions, Senior to Senior sessions, high-school group visits, open houses, or even one of Davidson's overnight visits for the full college experience! Even if you can't make it to campus, check out Davidson's virtual tour to get a feel for the school from anywhere in the world!
Where to Stay in Davidson, NC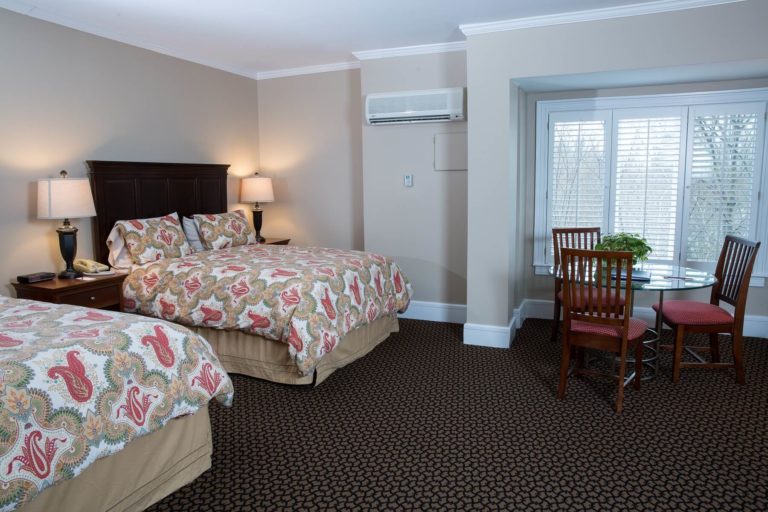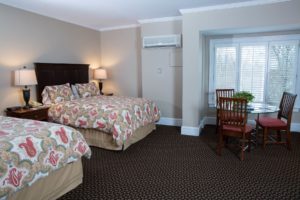 If you're not taking the overnight tour, the best place to stay is at the Davidson Village Inn. Our boutique hotel is just across the street from campus and gives you easy access to the admissions office and all of the town's best restaurants and shops. Each of our guest rooms features world-class amenities as well as a comfortable place to finish up any work that you might have.
For example, take a look at our Family Suites. These spacious guest rooms come equipped with two queen-size beds, a spacious work area, and high-speed internet, making them perfect for business partners or students that are traveling with a parent! It's never too early to start planning for your college tour!