There's no better way to celebrate the spirit of Thanksgiving than by bringing your loved ones together to support communities in need. That's why this year, Davidson Village Inn is honored to join other local businesses in sponsoring the first annual Davidson Turkey Trot!
A great time…
The Turkey Trot is a 5k race through scenic Davidson, NC. Run, walk (or trot) your way through town and work up an appetite before your Thanksgiving meal. Recruit your friends and family to join us as we gather for a morning of fun, togetherness, and giving back. After a year apart from one another, we're thrilled to see our community unite in what we hope will become a long-lasting Davidson tradition.
…for a great cause.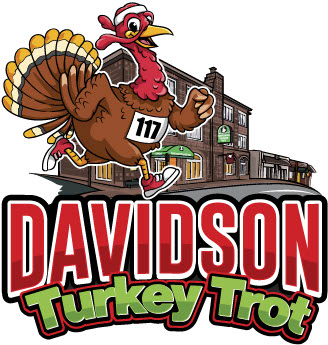 Proceeds from the Davidson Inn Turkey Trot will go to Rotary Club of Davidson and SOS to support their local and international service initiatives.
The Rotary Club of Davidson is a local chapter of Rotary International. This global network of 1.2 million neighbors, leaders, and problem-solvers share a common goal – taking action to effect positive, lasting change in their communities and the world around them. Rotary Club of Davidson is dedicated to serving the Davidson community and beyond through philanthropic activities to promote integrity and advance world understanding, goodwill, and peace.
Students Offering Smiles (SOS) is an organization dedicated to bringing comfort, relief, and joy to hospitalized children. The compassionate student volunteers of SOS spend their time assisting medical staff, while engaging and entertaining pediatric patients with fun, creative, and educational activities. 
Take part in this year's race!
The Turkey Trot will begin on Thanksgiving day at 8:00am and is open to participants of all ages. The race will be timed and scored by the folks at Queen City Timing, and all runners over 8 years old will need to register to receive an official race time. The first 300 runners are guaranteed a t-shirt to commemorate the occasion, so make sure to visit the official race page and sign up early! 
If you're traveling from out of town for the Davidson Turkey Trot and seeking accommodations, Davidson Village Inn is located right around the corner from the starting line. Our lodgings include king, queen, and twin rooms, along with executive suites (which may adjoin with twin rooms upon request), and family suites. Our cozy amenities and inviting atmosphere will ensure you and your loved ones can sleep in comfort and wake up well-rested for the race!
October 26, 2021