Have you ever had the opportunity to watch a performance by the Davidson College Theatre? If not, you're missing out! Each year, talented students and faculty put on some remarkable shows that will keep you on the edge of your seat. Take part in the excitement, support the school, and marvel at the beautiful venues! Continue on to find out exactly why you need to catch a show this season. You can also explore our free Travel Guide to discover additional performances, museums, events, and more!
Grab a Seat for Breathtaking Shows From the Davidson College Theatre!
Watch Remarkable Performances
The Davidson College Theatre Department, which has won many accolades over the past decade, puts on fantastic performances for the community each year.  Their mission is to present theatre that matters. By doing so, the productions will have a lasting impression on not only the audience but the cast and crew as well.
No matter what genre you're interested in, there's an upcoming performance that will take your breath away. The talented performers highlight everything from love stories to murder mysteries, and more! You can expect to see four remarkable shows each season from October to November, and they're a must-see this year!
Make sure you don't miss out! Take a look at this year's schedule of performances and grab your tickets!
Where to Find the Shows
You can enjoy these performances at a couple of locations in town. The Rupert T. Barber Theatre at Davidson College offers a more intimate space with seating for 175 guests. The Duke Family Performance Hall, on the lower level of the Knobloch Campus Center, can seat as many as 600 guests for grand performances such as the spring musical! Either way, you can enjoy complete immersion with excellent acting, state-of-the-art sound systems, and expert lighting.
How to Get Tickets
Tickets for the theatre performances are general admission seating.  Tickets are affordable and help support the Wildcats! You can purchase admission online or at The Alvarez College Union Ticket Office.  The Office is open Monday through Friday from 10:00 a.m. to 4:30 p.m.  If you want to attend more than one play, we recommend getting the Flex Pass for multiple shows. By purchasing the pass, you'll get a free bring-a-friend ticket included in the price!
Did you know that when you stay at the Davidson Village Inn, you can get exclusive discounts and free tickets to local performances? Check out our Theater Experience Special to find out more!
Stay Nearby So You Can Catch the Action!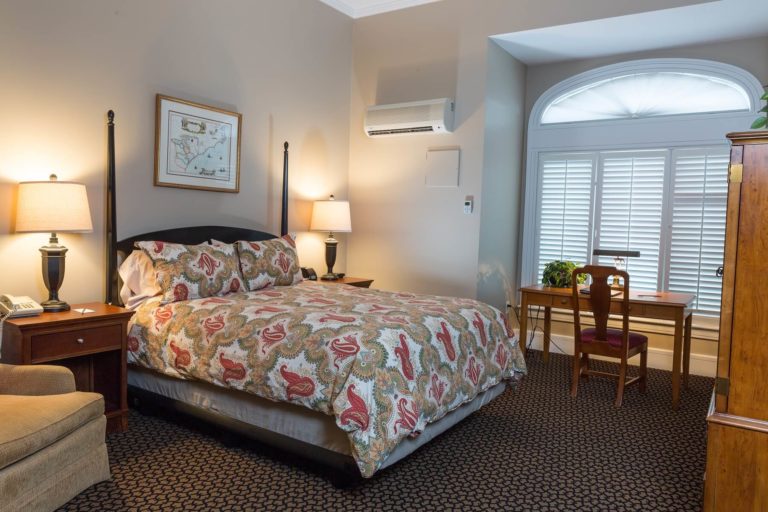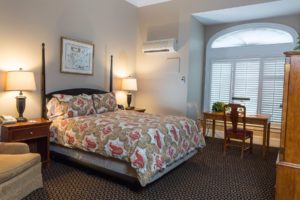 We love supporting our Davidson Wildcats, and we encourage you to do so as well! Davidson Village Inn is across the street from the college campus, putting you right near the action. We offer 18 spacious rooms that are perfect for any traveler. Each morning here begins with a delicious breakfast buffet with eggs, cheese, yogurt, freshly made baked goods, juice, cereal and coffee from Davidson's Summit Coffee. Get a good night's rest and start your day off right at Davidson Village Inn!
Consider one of our Queen Rooms for luxurious lodging near the college. Put your bags down and relax in your comfortable queen-size bed, enjoy some light reading in a cozy chair, and enjoy top-notch bath amenities. It's the perfect place to stay this season! Reserve your room today and get started on the ultimate weekend getaway!